The Amherst Orchid Society is excited to host theThrid Annual New England Summer Orchid Fest!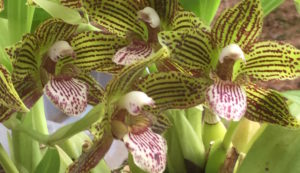 Friday, July 13th, 12–5pm & Saturday, July 14th, 9–5pm. The Fest will be held indoors at Smith Vocational & Agricultural High School located at: 80 Locust St (Rt. 9), Northampton, MA 01060.
This venue can be easily reached just off Interstate 90 by connecting to Interstate 91. Centrally & conveniently located for all of New England.
The New England Summer Orchid Fest will feature:
American Orchid Society (AOS) sanctioned Judging on Saturday, July 14th, starting at 12 Noon. Any vendor or Fest attendee may bring their own plants for AOS judging (plants should arrive by 11am to be registered for AOS award consideration)
Parking & Admission to the Festival are FREE!
Orchid Plant Vendors will include:
Non-plant vendors will include:
Vendors may be contacted for pre-ordering.