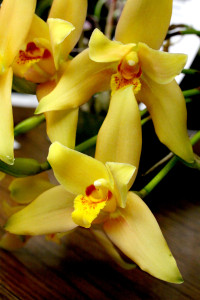 This September event is in place of our regular meeting…
Anyone is free to sell his or her extra or unwanted plants at our September Orchid Plant Swap and Sale Day. The club receives 30% of the sale price; the seller gets the other 70%. If you will be bringing more than just a few plants, please contact Marc Gray at show@amherstorchidsociety.org, and let him know how many plants you are bringing so we can determine ahead of time the amount of tables we need. (You are also free to bring your own table. We will set up outside, weather permitting.)
PLANT SALE LABELING SYSTEM
Make sure you have 2 identification labels for EACH plant you are selling.
On the plant identification tag (ID tag), which goes with the plant, you should place a sticker-label.
On the sticker, write your initials, a number that identifies that particular plant, and the price. For example, RW #1 $25 would be written on Roger West's plant #1. If you cannot get the sticker-label to stay on the ID tag, you may place it on the pot.
You should also make a second label, which includes your name or initials, the plant number, and the price. So this label would also look like RW #1 $25.
We will collect these priced ID tags at the check out line and tally them up at end. These ID tags will be returned to sellers for future use. This priced second ID tag does not need to include the plant's name, unless you are concerned about people switching out the tags.
This new system will expedite the set up time for getting plants ready, and will make the check out process more efficient.
If you have any questions or concerns please contact: Marc Gray at show@amherstorchidsociety.org
Hope to see you there!